An LED cube circuit sculpture shield for the UNO Mini LE
—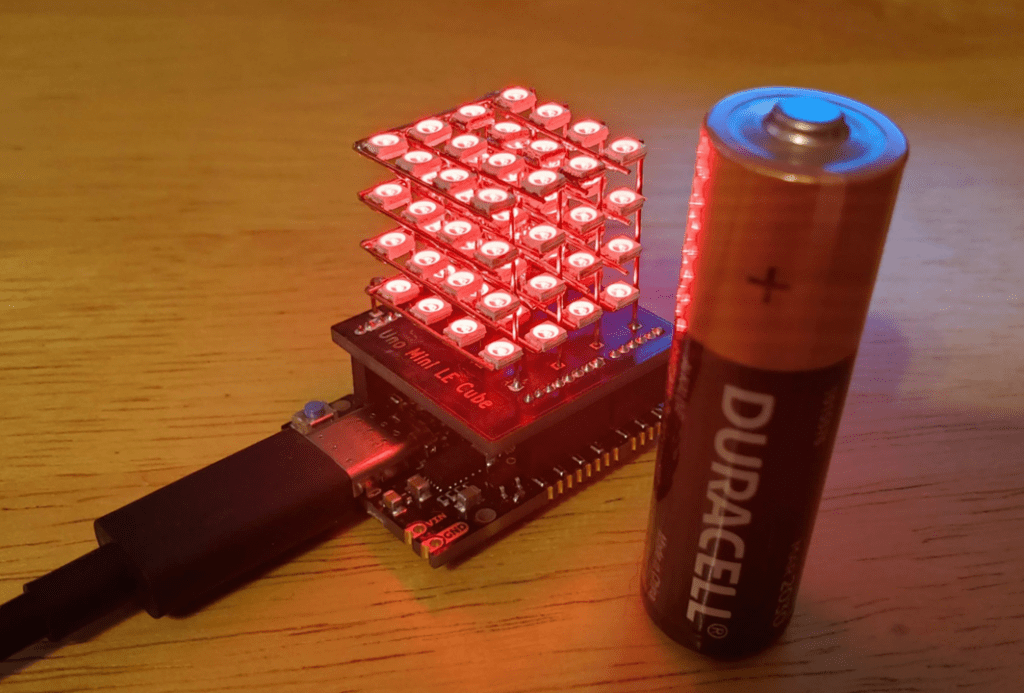 Few devices are more iconic in the maker community than the Arduino Uno board. To celebrate the Uno's history and beloved status, we released the UNO Mini Limited Edition in late 2021. This little board is a tiny replica of the standard Uno, but with a special black and gold color scheme. While the UNO Mini LE is collectible, it is also a fully functional development board. Hari Wiguna took advantage of that fact to create this LED cube circuit sculpture shield for it.
The UNO Mini LE's specs are almost identical to the standard Uno Rev3, since they share the same Microchip ATmega328P microcontroller (just in a different package). But the small size of the UNO Mini LE means that it isn't compatible with normal Uno shields. Wiguna's shield fits on the UNO Mini LE and provides a flashing circuit sculpture cube of LED goodness.
The cube is four LEDs tall, four LEDs wide, and four LEDs deep, resulting in a total of 64 LEDs. Wiguna arranged those as an array of four matrices to keep the I/O pin count down and to simplify indexing. The PCB shield was professionally fabricated, but the cube required hand-soldering to create the copper lattice structure that doubles as the circuit for the LEDs. To show off the cube's LEDs, Wiguna coded a sketch that includes 3D animations.
If you want to build your own LED cube shield, the PCB files and code are on Wiguna's project page.