The most advanced Lamp/Speaker is open source and also Arduino at heart
—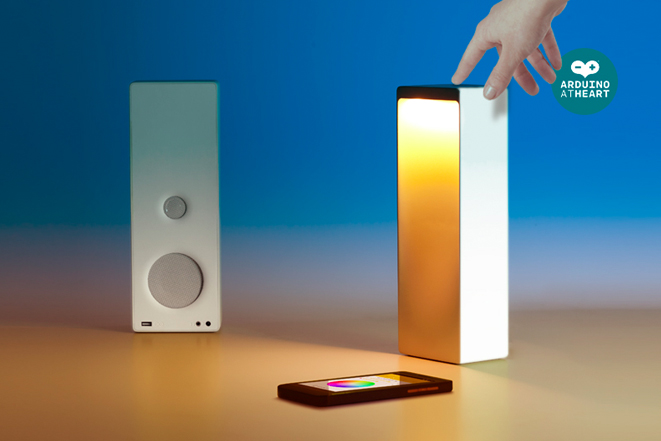 Interacting with objects in a new way has always been the main focus of Digital Habits, a design studio based in Milan.  Today we are proud to announce they've become a partner  of the Arduino At Heart program with their new project called Cromatica (it was exhibited at the coveted Fuorisalone Milan Design Week in the Superstudio Temporary Museum for New Design and started the crowdfunding campaign just some days ago!).
Cromatica is half speaker and half desk lamp: it can be controlled through a natural gestural interface, touch sensors or remotely via the Cromatica Android and iOS app. Designed to deliver both light and sound functions, Cromatica features wireless 4.0 Bluetooth connection for streaming music and a RGB lamp for multiple ambient effects.
Cromatica is embedded with an Arduino allowing for a highly digital, multi-sensory music and desktop working experience.  It blends  light and sound functionalities in unexpected ways, taking IoT products to a new level of quality.  For example you can download the app for natural awakening: light will rise and music streaming will start allowing you to wake up to your favourite playlist, perfect for early mornings.
Take a look at the video for the Natural Interaction:

In the video below you can see how you can create your favorite ambient  to match with your mood:
Innocenzo Rifino, Director of Digital Habits, told us:
"The Cromatica is a multi-purpose light-speaker but it is also our vision of the evolution of electronics, a vision that is moving in a more human and open direction. Crowdrooster have helped tremendously by opening our product up to a wider community whilst giving us the chance to generate enough funding to share our concepts more widely."
The Cromatica is also true to its maker roots being Open Source and hackable, opening the doors for endless innovation from the maker community as it can be adapted to integrate with other tech and the Internet of Things. To enable this there will be a special 'Maker Edition' campaign reward complete with digital file to 3D print the shell.
Take a look at their campaign Crowdrooster and make your pledge!
Crowdrooster, the new 'all tech' crowdfunding site, introduced Cromatica as the first maker project available for funding on the site.