An award-winning LCD with an Arduino built-in (using only 2 pins!)
—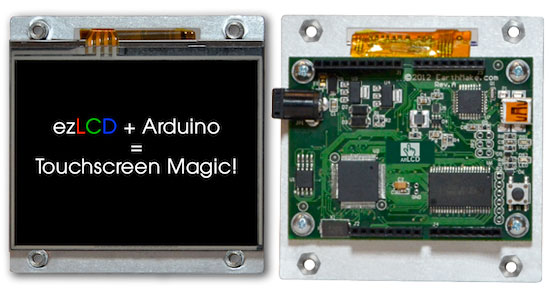 We are happy to announce a new entry in the Arduino At Heart program. It's called arLCD by EarthMake, an US based company with the mission to introduce ezLCD technology produced by its sister company EarthLCD to the Maker Market through special products.
The new Arduino at Heart is not just an LCD and you should not confuse it with a snails pace 2.8 LCD shield that uses almost all your I/O pins!
arLCD is a full smart ezLCD GPU with the Arduino Uno R3 on the same PCB in a thin, easy to integrate package with a panel mount bezel available in the near future.
The 3.5 has 64% more display area than a 2.8 LCD. The arLCD combines the Arduino and the award winning ezLCD into a single product, ready to accept all Arduino compatible shields. The arLCD can be used in many applications such as thermostat control, lighting controls, home security, audio control, water level gauge, robotics, operational control, and button switches.
In the video demo you can see how it works. Jazz shows us how to switch screens and display different programs. The first sketch is an design tool for choosing the colors for the screen layout, the second app explores a thermostat prototyped on a breadboard using a thermistor to read the current temperature and turn on/off an led.

Want to learn more? Take a look at the documentation, download the library and then check the introductory video below:
If you're interested add your email on this page and get notified when available in the Arduino Store.