Transform the way you organize your home with Arduino
—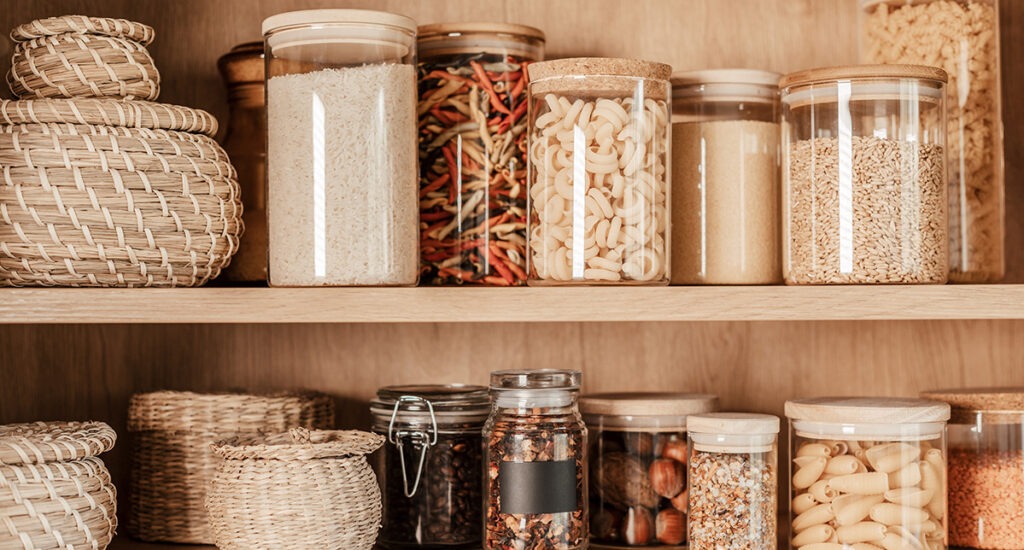 One of the wonderful things about living in the modern world is having full cupboards, pantries, and wardrobes. But this privilege also comes with downsides — managing all the various items we own can be a headache and can lead to confusion and stress.
The good news is that storage doesn't have to be a chore. In fact, with the right tech solutions, we can make our storage spaces much smarter, so they actually help us stay more organized and even give us guidance on how to use our space better. Many of these solutions can be built at home with just a few tools.
In this article, we'll explore the concept of smart storage, and why it's so useful, and we'll share a few examples from the Arduino community from people who have built their own smart storage projects.
What is smart storage?
Smart storage is when we use tech to make your cupboards, wardrobes, and pantries more intelligent and useful. The right solutions can give you alerts and updates when certain items are running low, suggest things to use or throw away, and even fill out a shopping list for you.
Smart storage can help us manage our spaces better, use what we own more efficiently, save money, and get inspired. Now let's take a look at some examples of smart storage projects from our Arduino community members.
Smart pantry
With just a handful of materials, Arduino member Md. Khairul Alam designed this smart pantry to keep track of the items in his kitchen and ensure he never runs out of what he needs.
The challenge
Unless you have the pantry of a Michelin Star restaurant, it's pretty unlikely that you have all the ingredients you need in stock all the time. When you decide to cook a certain recipe, it's fairly common to find that one or two items are running low in your pantry.
A quick trip to the grocery store can fix this, but of course, it's all too easy to forget a certain item, buy the wrong thing instead, or fail to get enough of what you need. Can smart storage save us?
The smart storage solution
Khairul decided to fix the problem by building his very own smart pantry, designed to keep track of ingredients and make sure nothing ever runs out. The project works by monitoring every item in the pantry, and if something is running low, it automatically orders a replacement using Amazon DRS.
This project is a great way to remove human error from the process of keeping our cupboards stocked. The best part is it's easy to do yourself at home with just a few simple components and tools. Check out the full project and instructions here.
Smart wardrobe
An overflowing wardrobe is a good thing — it allows you to mix up your outfits and dress well whatever the occasion. However, packed wardrobes can also be tricky to manage, and it's easy to lose track of clothes or end up filling space with items we no longer wear.
Arduino user Tan See Youu decided to fix this problem by building his own smart wardrobe.
The challenge
People today own more clothes than ever before. However, you probably won't wear all of them. Over time, certain outfits tend to get forgotten and fall back into the murky depths of the wardrobe, never to see the light of day again.
In areas with high humidity and warm climates like Singapore, clothes that are left for a long time in the wardrobe can even become moldy.
The smart storage solution
Tan See Youu's smart wardrobe helps you manage your clothes and keep track of where everything is, displaying this information on a smart screen. The wardrobe can also push this data into the cloud and share it with your phone via a mobile application.
The app can even provide suggestions on what to wear today based on the events in your calendar and the current weather forecast, and it comes with a dashboard showing which clothes you wear most frequently and which outfits you have neglected.
If you haven't worn a certain item in a while, the app can offer suggestions for second-hand platforms or charity organizations so you can send it to a better home if you choose.
Tan See Youu didn't invent smart wardrobes — they have existed for a while — but his project shows that it's possible to build your own with relatively few resources and at a low cost. Learn more about the project here.
How Arduino makes smart storage easier
Arduino's IoT Cloud makes it possible to create your own home automation projects just like the ones we looked at in this article. You can build useful devices with relatively little materials needed to start, making your life easier and your home more efficient.
Find out more about the IoT Cloud and how the Home Automation initiative can give you many ideas to improve your daily life.